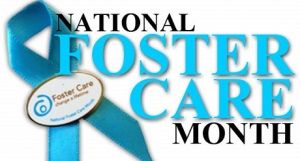 CASA knows the benefits of kind and loving Foster Parents. Each day we observe the tender care so many Foster Parents provide to children who have been abruptly removed from their own home. This kind of care is essential to the help heal the broken lives of abused and neglected children.
This month and every month we want to thank these kind individuals for their contributions. Foster care is very different today than it was even 10 years ago. Today, foster care includes single-parent foster families; families with caregivers or children who identify as lesbian, gay, bisexual, transgender, and questioning (LGBTQ); multiracial families; and includes grandparents and other extended relatives not historically considered for kinship care. Foster parents and relative/kinship caregivers are critical partners in child welfare and are increasingly seen as key players in the team working to achieve permanency for children and youth in care.
As primary caretakers, foster parents and kinship caregivers play significant roles in working with parents and in carrying out the tasks in a child's permanency plan. More information and resources to support caregivers' well-being and strengthen their efforts to work with families, keep children connected to the services they need, and promote a sense of normalcy for youth while in foster care are available at https://www.childwelfare.gov/fostercaremonth/resources/parents/.