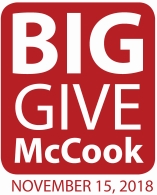 The McCook Big Give is a 24 hour period of giving where McCook area supporters are invited to give back to their favorite local charities and educate themselves on other non-profits available in our community.
The goal of this area wide giving event is to match McCook area supporters' passions and generosity with our local nonprofit organizations already doing great work. Through the combined participation of all people who love and care about the McCook area, we can significantly impact the future of our beloved community
Big Give McCook will run from midnight to midnight on Thursday November 15th 2018.
Donors mark which organizations(s) they would like to support and all funds are provided to the appropriate group. In addition a bonus funds program is created using sponsor dollars. These funds are divided among organizations based on the program requirements and help to make each donation even more valuable.