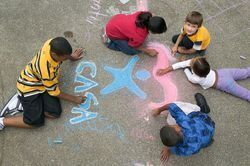 SAVE THE DATE! Join us for our 2023 Contest!
WHEN:            Sept. 4th through the 15th, 2023
WHERE:           Anywhere in Nebraska
WHY:                To get the word out about CASA's advocacy for kids  and our need for more volunteers
THEME:           Light of Hope         
Submission:   A photo of the art (preferably with the artist) submitted by 5 pm central time on Sept. 15, 2023. We ask all artists to work with their local CASA program to coordinate. 
Winners:          Announced Friday, Sept. 22nd
Prizes:              $500 Grand Prize
                           $250 Second Place
                           $100 Third Place
                           $  50  Best Children's Piece
                           $  50 Best Family Piece
                           $  50 People's Choice Award
Official Rules of the Sidewalk Chalk Art Contest – "Chalk it Up for CASA"
Everyone is welcome to apply to participate in the chalk art contest. There is no cost to submit an entry into the contest.  We ask that each participant work with their local CASA program. You can find your local program at: www.nebraskacasa.org/who_we_are/what_we_do/programs_services.html
Judging will be based on:
·      Originality/Creativity
·      Interpretation/Execution of CASA Mission, the need for more volunteers and theme. 
·      Overall Design  
The CASA (Court Appointed Special Advocate) Mission:
To support and promote court-appointed volunteer advocacy so every child who has experienced abuse or neglect can be safe, have a permanent home, and have the opportunity to thrive.
Submit questions to: necasa.corrie@gmail.com or 402-477-2788
Additional Rules:
We recommend drawings no larger than 3 x 5 but there is no limit to size.
You must obtain permission from the owner of the sidewalk, window, or area you are using, or if a public sidewalk the owner of the property surrounding it. For public spaces, please contact the local city, school, or other public authority.
Drawings on buildings, trees, or any other surface other than windows are strictly prohibited.
This is a family event. Artwork containing nudity, profanity, or content deemed inappropriate by the committee will be disqualified from the contest. (Keep it rated G)
Final chalk designs should be free-hand drawn.
There is no limit to the number of drawings submitted.
Use chalk only. You may mix chalk dust with water but no other liquid substances may be used.
Do not use hairspray or any other chemicals to adhere the chalk to the sidewalk or window.
Any type of liquid chalk is acceptable.
You can do chalk art to business windows with permission.
Tips:
Use chalk sparingly. Build up your layers, starting with a very light layer on the bottom. Some artists prefer to lay all their undertones first. Some prefer to work top to bottom. We recommend outlining all your major elements first. A big chalkboard eraser works great for laying down large areas of color. Moving the eraser in a circular motion works best. Creating a chalk-paint by crushing chalk into water and using a paint brush is also helpful when filling large areas. If you're a first timer, consider using one object as the focal point of your artwork – a face, a frog, etc. Small details are difficult to manage on a rough surface — so think BIG & DRAMATIC. The more you work with chalk on concrete, the more comfortable you will become. So, practice on the driveway at home before you create your final art!
The 2022 Nebraska CASA Chalk Art Winners
Grand Prize winner Jamie Dimmitt  - Entry #27
Second Place winner Addy Shald - Entry #26
Third Place Briley Cuba and Sophia Gasper - Entry #51
Best Youth Piece Sara and Cora Endorf - Entry #36
Best Family Piece the Kime Family - Entry #24
People's Choice Award goes to Brenda Felthousen - Entry #19
Thank you to our 2022 Judges!
Dave Schroeder, KRVN News Director
Sarah Fili, KETV NewsWatch 7 News Team 
Nathan Brennan, Morning Reporter, KOLN/KGIN News
---